Every year around this time I catch the bug.
The shopping bug.
It starts the day after Thanksgiving. I'm ready to decorate, shop, make gingerbread houses, bake cookies, hang Christmas lights, (not really, that's the husband's job :), and pretty much LIVE in the kitchen (eating or baking) until Christmas.
Do you like to head out for Black Friday? I was a little disappointed that the sales started so early this year. Dinner wasn't even done yet and the stores had already opened. Boo to retailers.
I choose to shop from the comfort of my home. Stretchy pants, my laptop and leftover pumpkin pie. It doesn't get better than that. No crowds either.
Of course, I always end up looking for myself. Here are just a few things I think I might buy for myself if the handsome husband doesn't get the hints I'm leaving all over the house:
Getting Spicy
These individually wrapped organic spices are perfect and so fun! Choose from flavors like "Cookie Jar"–a collection of different spices for making cookies with, "Roast to Toast"–perfect for chicken or turkey, and other fun names like "Dinner Party", "Mull Over This", and "Game Day Chili." Each packet contains one teaspoon of organic spices and runs between $5.99 and $9.99.
www.tspspices.com
Homemade Marshmallows
Making your own marshmallows became a craze in the foodie world. Now go beyond chocolate, traditional white and peppermint and try flavors like strawberry basil, cinnamon, and mango and raspberry. Ten marshmallows will cost you about $11.
www.threetarts.com
Mezzaluna
Where has this instrument been my entire life? Perfect for chopping herbs and nuts the mezzaluna can handle it all easily–and cleanly. The mezzaluna pictured above includes a concave cutting board and runs $59.99.
www.broadwaypanhandler.com
Abra Ca Zibra!
Have you ever watched your child open his Christmas present only to find out he can't play with it? That's because you  need a degree to figure out how to get the toy out of it's pretty packaging. Round up the screwdriver, the scissors, and a knife. Except that now you don't need all those instruments. For $11.99, it comes in the Zibra, a single instrument with a box cutter, scissors, and screwdriver.
www.enjoyzibra.com/openit
Cheese Making Kit
Last year I wanted to learn how to make yogurt. This year I want to learn to make my own cheese. The Williams Sonoma catalog came over the weekend and these cheese kits intrigued me. You can make cheeses like mozzarella, goat, or queso fresco in under an hour! Williams Sonoma also offers butter making and kombucha kits too. They are all affordable at $12.95-$29.95.
www.williams-sonoma.com
Apronologie
I love the colors and uniqueness of an Apronologie apron. Every one is unique, one of a kind and so beautiful. You can even buy an apron kit to give to a sewing loving foodie. Hint: I cannot sew a button on anything, so NOT a good gift for me. But I do love that each kit comes with each pattern piece already cut out for you. Aprons start at around $45 and it's a fun website to check out often because styles are always changing!
www.apronologie.com
Serve A Slice Perfect Every Time
I am a klutz when it comes to trying to serve a piece of cake. I usually get a few laughs when I try to serve cake to someone. I love this cake server from Urban Butik. Not only will it serve it nicely, but also transports it nicely too! The joke will be on everyone else now. This cake server starts at $18.95 and comes in vibrant lime to stainless steel colors.
http://www.urban-butik.com
Fresh Citrus All Year Round
I love my lemons, limes and oranges and wish I still lived in an area where I could step outside and pick fresh citrus from my own tree. But the snow flies here and there is not a citrus tree in sight. I love the new dwarf variety trees that can be kept indoors during the winter and easily transported outside during the summer months. Gurney's offers trees for as low as $12.95. Hello lemon bars!
www.gurneys.com
Kiss My Feet
The only thing worse about standing for hours on end is how achy your feet get! The Gel Pro Mat available from Bed Bath and Beyond is perfect for relieving foot pain associated with standing. Now if they could just work on something for neck and back aches! The Gel Pro Mat retails for $99. Look for 20% off coupon codes as they are frequently available.
www.bedbathandbeyond.com
Props 
From bakers twine from the Twinery to unique props for photographing, a food blogger loves something new. Try old milk jugs, mason jars, glass bottles, cutting boards, plates, or bowls with a unique flair.
On a recent walk through in Sears, I found some cute things too. Napkins, dishes, and great affordable accessories. You can always pick up the foodie in your life some colored napkins, colorful bowls, or a colorful spatula set.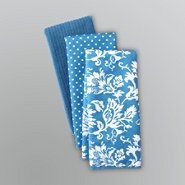 Disclaimer: As a part of the Smiley 360 program I was given the opportunity to receive a gift card to Sears. My opinions are my own.