Did you realize that peanut butter your kids love smeared on bread and topped with jelly is now costing you up to 40% more at the grocery store? In October 2011 it was announced that due to a horrible crop year peanut prices for 2012 would be affected. Peanuts are harvested in September and October. Intense heat and droughts in the south were peanuts are grown and harvested were to blame.
CNN Money in October 2011 projected that peanut butter prices on popular brands would rise stiffly as a result. Planters peanut butter was projected to raise by 40%, Peter Pan would raise by 20%, and Jif would raise prices by 30%.
Americans eat an average of six pounds of peanut butter per year and together consume 800 million dollars worth of it.
If prices are getting you down, there are plenty of alternatives on the market that are great tasting and good for you and your family. Here are a few that you can substitute for easily in recipes and sandwiches along with recipe ideas:
Almond Butter
Almond Butter is a wonderful alternative to peanut butter. It adds a rich flavor to many recipes. It's also packed with some good (and bad) news. Two tablespoons provides half of your daily value of Vitamin E and maganese. However, it also packs about 200 calories per serving so be careful when using it! Try these delicious almond butter and banana roll ups from Feed Our Families. They fit perfectly in your child's lunchbox.
Chickpea
Chickpeas or garbanzo beans are another great alternative to peanut butter. Look for hummus which is made of these beans. They are wonderful to use because they have no saturated fat or cholesterol. They are also high in protein and are a staple for vegetarian and vegan diets. Try this pretzel and hummus dip from Super Healthy Kids for a great lunch or afternoon snack.
Cream Cheese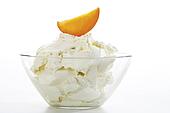 Cream cheese can be a wonderful alternative to expensive peanut butter. There are some wonderfully tasting low and non fat versions. It's a great alternative to fattening peanut butters and cheeses. The downside of using cream cheese is it doesn't contain as much calcium and protein as other cheeses. But it's easy to substitute in sandwiches. This delicious fruit filled grilled cream cheese sandwich from Burnt Apple is a delicious twist on the traditional grilled cheese sandwich.
Hazelnut Butter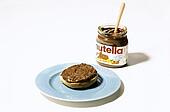 The first thing that comes to mind when you hear the word hazelnut would have to be Nutella. With a blend of hazelnut butter and cocoa it's the perfect alternative to a plain old peanut butter and jelly sandwich. It also works great for substituting in recipes calling for peanut butter. While still a little pricey, it's rich flavor will leave you using less than traditional peanut butter. To save money, Stephanie Gallagher came up with her own hazelnut and chocolate spread. Or, you can make this ricotta and hazelnut butter sandwich from Rachael Ray.
Soynut Butter
Soynut butter is another great alternative to peanut butter. Ground up soybeans mix with soybean oil to create a flavorful peanut butter like consistency. Soynut butter can be used in place of peanut butter (although be warned it has a strong nutty taste and may not meet the approval of little ones right away). Two tablespoons has around 170 calories but includes 16% of your daily value of protein. For a sweet treat in your children's lunch, try these soynut butter muddy buddies from Kitchen Goddess. This apple and soynut butter pita sandwich is also a delicious lunch for kids or adults.
Sunflower Seed Butter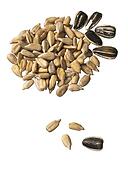 This is one of the easiest nut butters to switch children to without having them notice much. Sunflower butter seems to enhance the taste of a sandwich when combined with jelly. It also contains high levels of vitamin e and maganese along with cholesterol lowering phytosterols. Peas and Thank You shows you how to make your own sunflower butter recipe here. This stuffed apple snack is made with sunflower seeds, but you could mix it up with sunflower butter for a fantastic spread.
Tahini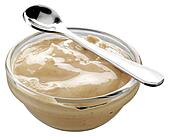 Popular in middle eastern societies, tahini is made from ground sesame seeds. It's a popular ingredient in hummus, and one serving contains 15% of your daily value of fiber. It also contains 30 grams of polyunsaturated fat and is rich in calcium, iron and vitamin B. Try this lemon tahini dressing from Gone Raw on your favorite salad or a chicken souvlaki pita with tahini sauce. 
REFERENCES:
Peanut Butter Prices Increase, CNN Money